Kyiv, Tuesday, September 21, 2021
The American Chamber of Commerce in Ukraine, jointly with AmCham member company Citi Ukraine, conducted Ukraine Business Climate Survey: Post-Pandemic Horizon. The Survey's primary goal is to equip members with present-day business trends, state of investment climate, COVID-related outcomes, and help to navigate in the new business season. It may also help to identify major concerns and obstacles for AmCham members with regard to doing business over the next six months, forecasts on their companies' financial and organizational health, and key priorities Government should focus on.
100 CEOs and top managers of AmCham member companies took part in the Survey, conducted on August 25 – September 15, 2021. The majority of the respondents (77%) are CEOs.
90% of business representatives give an upbeat forecast on their companies' financial health at the end of 2021: 62% will achieve planned financial results, 28% will achieve more than was planned. Only 10% of companies will fail to achieve planned financial results.
Respondents forecasted revenues, number of employees, and investments of their companies at the end of 2021. 59% of members hope to see an increase in revenues; 5% forecast a decrease. 52% of respondents indicate that their companies' headcount will remain unchanged, 42% point out that their companies will increase the number of employees. 35% of businesses forecast an increase in investments, while 10% – a decrease.
AmCham members were also asked to compare their companies' 2021 revenues, number of employees, and investments to 2020. 65% indicated an increase in revenues, 46% – increase in the number of employees, 37% – increase in investments.
93% of businesses stated that implementation of real and effective judicial reform, rule of law, fair justice, and eradication of corruption is #1 strategic step Ukraine's Government should take first to achieve economic growth, improve the business climate, and attract Foreign Direct Investment.
Other top strategic steps are the following: guarantee a fair, equal, predictable, and transparent tax policy and fair competition (52%); ensure macroeconomic stability and continue cooperation with the IMF (26%); ensure predictability of the regulatory environment for investors (23%); secure investment and property rights (21%).
Сourts (56%), law enforcement agencies (32%), oligarchs (28%), and tax authorities (28%) create the biggest obstacles for business.
Possibility of the new lockdown (61%), geopolitical uncertainty (53%), escalation of conflict with Russia (39%) were identified by business representatives as the top-3 major concerns with regard to doing business over the next six months. Among other concerns – inability to achieve planned financial results (29%), security of employees (22%), inability to invest (16%).
On average, 20%-50% of AmCham member companies' employees have contracted COVID-19; 40%-70% are already vaccinated against COVID-19.
The business representatives were asked to indicate their companies' current work formats. 74% of companies have a hybrid work format or work in shifts. 17% stated that all their companies' employees returned to the office, in 9% of companies all employees continue to work remotely.
Andy Hunder, President of the American Chamber of Commerce in Ukraine, stressed: "It's great to see an upbeat forecast from the vast majority of AmCham members on their companies' financial health in 2021. But the business is unanimous – 93% of companies prioritize judicial reform and rule of law as the #1 strategic step for Ukraine's Government to take for economic growth, business climate improvement, and attracting top-caliber FDI. We will continue to vigorously push for rule of law, and protection of investors' rights, making Ukraine a better and more secure place to do business."
Vice-Chair of AmCham Ukraine Board of Directors, Country Officer and Corporate Banking Head of Citi Ukraine, Alexander McWhorter told: "It is great to see companies shift their planning to the post-pandemic horizon and are able to achieve their goals despite ongoing challenges. The majority of respondents have said they will achieve planned financial results. Moreover, they expect that their revenues will increase going forward. I personally see a great deal of opportunity for economic growth in Ukraine. Recently, Citi Ukraine has launched Citi Commercial Bank (CCB), a dedicated business segment for serving the mid-sized companies with annual revenues from US $100 mln to US $0.5 bln. To service this market segment, we are building a new Kyiv-based CCB team."
---
About the American Chamber of Commerce in Ukraine:
The American Chamber of Commerce is Ukraine's most powerful international business association that has been serving members in Ukraine since 1992, helping companies grow, promote their services and brands. AmCham Ukraine is an affiliate of the U.S. Chamber of Commerce. Being a non-governmental, member-funded non-profit organization, AmCham Ukraine represents the biggest U.S. and international investors operating in Ukraine, who have invested over $50bn in its economy. AmCham Ukraine is the largest AmCham Office in Europe and a part of a strong global AmChams in Europe network. For 29 years, AmCham Ukraine has been delivering the voice of business at the highest level, advocating for the betterment of the business climate, and working closely with Ukrainian and U.S. Government officials. AmCham also focuses on attracting Foreign Direct Investment into the economy and advocates for predictable, transparent, and stable rules of doing business. For more information: https://chamber.ua/
Scan and follow Andy Hunder, AmCham Ukraine President, on Facebook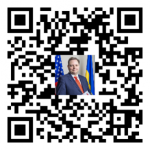 About Citi Ukraine:
Citi Ukraine (JSC Citibank) has had a presence in the country for more than 20 years, serving multinationals, large Ukrainian corporations, some public sector in the country and mid-sized clientele. In 2020, JSC Citibank obtained the Expert Rating Credit Agency's highest credit rating of AAA on the national scale and was recognized Best Corporate/Institutional Digital Bank in Ukraine by Global Finance World's Best Digital Bank Awards 2020 as well as Market Leader in Ukraine by Euromoney Cash Management Survey 2020 for corporates.
Scan and follow Alexander McWhorter, Head of Citi Ukraine, on LinkedIn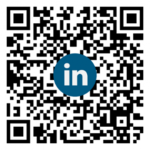 ---
Contact person:
Yuliana Chyzhova, AmCham Ukraine Chief Communications Officer, ychyzhova@chamber.ua