IMPORTANT NOTICE
As of Sunday, February 13, 2022, the Department of State will suspend consular services at the U.S. Embassy in Kyiv. The Embassy will not be able to provide passport, visa or routine consular services. U.S. citizens may seek these services at U.S. Embassies in neighboring countries. For more details, please click here: https://www.ustraveldocs.com/ua/index.html
---
ACC Ukraine B-Visa Program
In cooperation with the American Chamber of Commerce in Ukraine, the Consular Section of the U.S. Embassy in Kyiv can expedite the U.S. visa application process for employees of ACC member companies in good standing.  The B-Visa program allows ACC member company owners and employees, as well as ACC employees to take advantage of priority scheduling at the U.S. Embassy in Kyiv and utilize special interview hours reserved for ACC applicants.  In most cases, the Consular Section will schedule B-Visa program applicants for an interview within seven business days from their request.
Applicants must be traveling to the United States for a valid business purpose.  Principal applicants must be full-time employees and/or owners of ACC member companies, regularly employed contractors (FOP), or employees of ACC Ukraine.  Spouses and/or children under the age of 18 travelling with the employee may use the program if they are applying together with the principal applicant.
THE BVISA PROGRAM DOES NOT APPLY TO:
Employees seeking to travel to the United States for purposes other than short-term business
Employees who are part-time, interns, temporary, or unpaid
Contacts or employees of partner or affiliated companies
Employees with prior U.S. visa refusals obtained while applying through the B-Visa program within the past year
Spouses or minor children applying without the employee
Common-law spouses
Application through the B-Visa program does NOT guarantee issuance of a visa.
The B-Visa program is for business travel only, not for personal travel. 
Spouses and children (under 18) accompanying an ACC member company employee on a business trip may use the B-Visa program if they are applying with the employee.  Children under age 14 are not required to appear for the in-person interview, but do need to complete a visa application, pay the visa fee, and submit their passports along with their parents' documents.
To submit an application through the B-Visa program:
A. Prepare the following documents:

Non-immigrant Visa Application Form DS-160 – http://cdn.ustraveldocs.com/ua/ua-niv-ds160info.asp. After completing the form, print the confirmation page.  We recommend you read the instructions carefully before beginning your application.  Please answer all questions completely and accurately, including those regarding salary, prior employment, prior foreign travel, parents' names and U.S. contact information. Applicants who appear for their interview with incomplete applications may be turned away and have to reschedule.
Original certification letter from the ACC member company's authorized representative. The letter should summarize the purpose of travel, indicate the relationship between the company and the applicant, identify the sponsor of the trip, and state the duration of travel.  The certification must have an original signature.
An invitation letter from the U.S. side, indicating who is inviting, the destination(s), the purpose of travel, and the duration of travel. A copy or scanned/faxed letter is acceptable. Originals are not required. Notarized signatures are not required.
Passport(s) valid for at least 6 months beyond the date of entry into the United States as well as all prior expired passports in your possession.
One photograph: A two-inch square (51mm x 51mm) color photograph, less than 6 months old, taken against a white background, full frontal view. Photographs for U.S. visas are not the same size as photographs for Ukrainian passports.  Please visit this link for detailed photo requirements: https://travel.state.gov/content/travel/en/us-visas/visa-information-resources/photos.html.  If you provide an old photo, including one used for a prior visa application more than six months earlier, or one that does not meet the requirements, this will delay your visa issuance.
.
B. Schedule your interview

Pay the application (MRV) fee at a Raiffeisen Bank branch in Ukraine. Applicants must bring a deposit slip (printed out from the website https://www.ustraveldocs.com/ua/ua-niv-paymentinfo.asp) for their visa class in order to pay at the bank. Payment must be made in cash at the Embassy official exchange rate and only in Ukrainian Hryvnia. Applicants must retain their receipt number in order to schedule an appointment.
Schedule a regular appointment and then request an expedited appointment via https://www.ustraveldocs.com/ua/ua-niv-expeditedappointment.asp.The subject line should be "B-Visa Program Application". The request should include a short description of the purpose of travel and attached copies of the ACC letter and invitation letter.
You will receive a confirmation with your appointment date and time. All requests submitted by Friday at 4:00 p.m. will be scheduled for the following Wednesday at 2:00 p.m. If that date does not work, an applicant can request a Wednesday in the future by resubmitting the request through the scheduling platform.
C. Attend your interview
Please plan to arrive at the U.S. Embassy in Kyiv ten minutes before your scheduled appointment time. Please bring all the required documents listed above. Electronic devices, such as phones, are not permitted in the waiting room.
If your visa is approved, you will receive your passport with visa two to three business days after your interview. Occasionally, a case may require additional administrative processing.  During the interview, the Consular Officer will inform you if this applies to your case.
Contact Person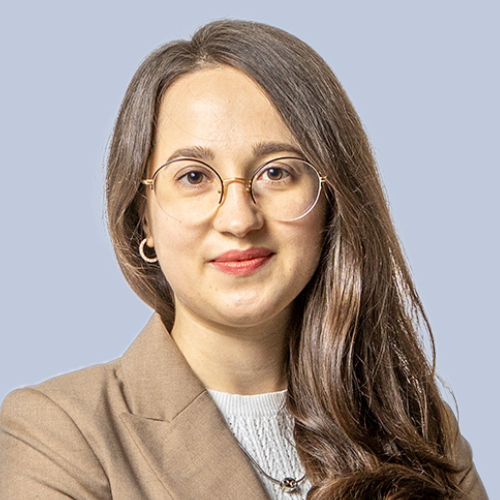 Olena Ishchuk
Business Development Coordinator