The country's main retail meeting will take place:
RAU EXPO 2020 exhibition is planned to be held in September
On 9-10 September, the IV largest specialized exhibition of the retail and development industry in Ukraine, RAU Expo 2020, will be held at NSC Olimpiyskiy. Every year the event was held in the spring, but due to the epidemiological situation and increased security measures, the organizers postponed the meeting to the autumn and now they are optimistic. The exhibition will also include the IV solemn awarding ceremony RAU Awards 2020.
Rau Expo 2020 will include:
2 days of the exhibition
3 exhibition halls
90+ exhibiting companies
500+ participating companies
80+ top speakers, namely top persons and top management of retail and development
presentations of cases, new commercial real estate objects and panel discussions
more than 2000 guests from 8 countries
As well as meetings with representatives of leading companies of the market, networking in business and VIP areas, communication with foreign retailers that are not yet represented on the Ukrainian market, and the mobile app for active communication between each other.
The event is organized by the Retailers Association of Ukraine.
Among the first speakers of RAU Expo 2020 are: leaders of the Spanish Retailers Association (AER), LC Waikiki, Epicentr K, New Balance Ukraine, Arricano and others. Namely:
Laureano Turienzo, President of the Spanish Retailers Association (AER)
Anna Chubotina, CEO of Arricano Real Estate Plc
Dmytro Pokydchenko, Marketing Director of New Balance Ukraine
Iryna Shynkarenko, Deputy Director of Epicentr K LLC for Corporate Communications and Media Relations
Oleksii Hryshko, CEO of LC Waikiki Ukraine
Roman Yemets, Managing Director of Dream Town Shopping and Recreation Center, Certified Shopping Center Manager by ICSC
Nataliia Kravets, Commercial Director of Property Management Division Dragon Capital
Yurii Lishchuk, Director of Retail Networks Nielsen Ukraine, Belarus (Nielsen Ukraine)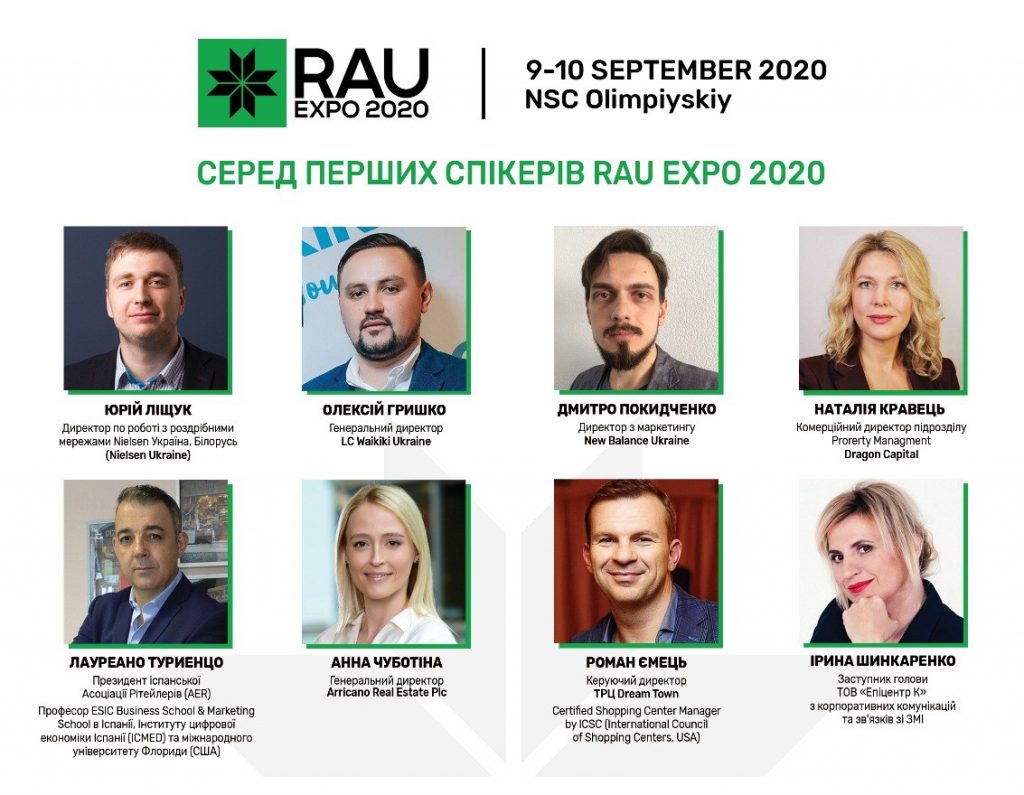 The following topics will be discussed as part of the RAU Expo 2020 business program:
Company anti-crisis management
Effective tools and sales channels
Achievements and development of international retailers in Ukraine
HR trends in retail
Reconceptions and trends. How the retail real estate market in Ukraine is developing
WORK-LIFE BALANCE. Synergy of business and personal life
Effective interaction
Innovative solutions and process optimization
New shopping and recreation centers. Retail prospects
New Retail. New Marketing
Rebranding. Transformations results and new ideas (pilots)
Among the already confirmed exhibitors are: Budhouse Group, shopping and entertainment centers: Victoria Gardens, Aladdin, Smart Plaza, Piramida, Sky Park, Podoliany, Hollywood, PortCity, retailer MOYO, as well as B2B companies: RDA, Synergy Construction, moneyveo, Ader Haber, IBS, Consulting for Retail, Fondy, Quantula and others.
Session partners are: CEO club and DYB.
On 10 September, at 19:00, the IV ceremony of awarding the best companies in retail, e-commerce and retail real estate in Ukraine, RAU Awards 2020, will take place. The winners will be selected in 28 categories, of which 13 are related to retail, 8 - to the development of shopping and entertainment centers and 7 - to the field of e-commerce.
The best of the best will be determined by a vote of industry participants, a survey of guests of the ceremony, as well as by the Expert Council formed by the Retailers Association of Ukraine.
More information at https://rau.ua/rau-expo/
You can buy tickets at https://rdbexpo2020.ticketforevent.com/
The event may be postponed due to quarantine restrictions.
Contacts for registration and participation:
Yuliia Kushka, +38 067 223 07 30, j.kushka@rau.ua
Olesiia Kobtseva, +38 050 313 74 53, o.kobceva@rau.ua