Celemi Performance™ is a world class business simulation, during which participants, following the case story of imaginary Fenix Inc., evaluated market conditions, reviewed the product portfolio, determined customer needs, defined burning needs and the potential for action.
Celemi Performance is an excellent opportunity to exercise business minds as it covers a broad range of strategically important issues, such as: product life cycles, disruptive technologies, supply chain efficiency, customer segmentation, short-term vs. long-term profitability.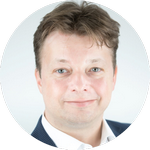 Speaker:
Marius Opris, Partner, Ascendis. Marius has over seventeen years of business experience in entrepreneurship, multinational companies and consulting. Marius started his training activity in 2004 and was involved in over 15 organizational transformation projects in Romania. During this time, Mr. Opris has held training programs for over 10,000 participants. He has extensive experience as a consultant in the telecommunications, IT&C, energy, pharmaceutics, automotive and retail industries.
Chamber Friday University is a series of half-day workshops that aims to give an overview and focus on various topics which may help you in your professional and personal development. These highly interactive workshops use a wide range of formats including video, demonstrations, lectures, discussions and simulations.
EDUCATIONAL PARTNER