Want to discover what exactly is Emotional Intelligence? How to measure your own level, be aware of it and increase Self-awareness, Self-Regulation, Motivation, Empathy and Social Skill? During this Chamber Friday University session we discussed "Emotional Intelligence – the ultimate approach in leadership development".
Researches showed that emotional intelligence is twice as important as was IQ and technical ability in driving performance. At the most senior levels, it accounted for a 90% of the difference between the best and the rest. Participants had an opportunity to get insignts from Ascendis Consulting experts as well as find out of development tool "BLUE EQ".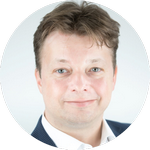 Speaker:
Marius Opris, Partner, Ascendis. Marius has over seventeen years of business experience in entrepreneurship, multinational companies and consulting. Marius started his training activity in 2004 and was involved in over 15 organizational transformation projects in Romania. During this time, Mr. Opris has held training programs for over 10,000 participants. He has extensive experience as a consultant in the telecommunications, IT&C, energy, pharmaceutics, automotive and retail industries.
The workshop has been supported by the Chamber Member Company Ascendis.
Chamber Friday University is a series of half-day workshops that aims to give an overview and focus on various topics which may help you in your professional and personal development. These highly interactive workshops use a wide range of formats including video, demonstrations, lectures, discussions and simulations.
PARTNERS